View the PDF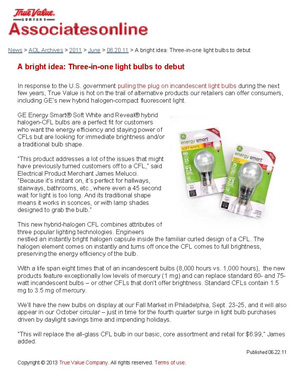 Full text:
"In response to the U.S. government pulling the plug on incandescent light bulbs during the next few years, True Value is hot on the trail of alternative products our retailers can offer consumers, including GE's new hybrid halogen-compact fluorescent light.
GE Energy Smart® Soft White and Reveal® hybrid halogen-CFL bulbs are a perfect fit for customers who want the energy efficiency and staying power of CFLs but are looking for immediate brightness and/or a traditional bulb shape.
"This product addresses a lot of the issues that might have previously turned customers off to a CFL," said Electrical Product Merchant James Melucci.
"Because it's instant on, it's perfect for hallways, stairways, bathrooms, etc., where even a 45 second wait for light is too long. And its traditional shape means it works in sconces, or with lamp shades designed to grab the bulb."
This new hybrid-halogen CFL combines attributes of three popular lighting technologies. Engineers nestled an instantly bright halogen capsule inside the familiar curled design of a CFL. The halogen element comes on instantly and turns off once the CFL comes to full brightness, preserving the energy efficiency of the bulb.
With a life span eight times that of an incandescent bulbs (8,000 hours vs. 1,000 hours), the new products feature exceptionally low levels of mercury (1 mg) and can replace standard 60- and 75- watt incandescent bulbs – or other CFLs that don't offer brightness. Standard CFLs contain 1.5 mg to 3.5 mg of mercury.
We'll have the new bulbs on display at our Fall Market in Philadelphia, Sept. 23-25, and it will also appear in our October circular – just in time for the fourth quarter surge in light bulb purchases driven by daylight savings time and impending holidays.
"This will replace the all-glass CFL bulb in our basic, core assortment and retail for $6.99," James added.
Published 06.22.11
Copyright © 2013 True Value Company"